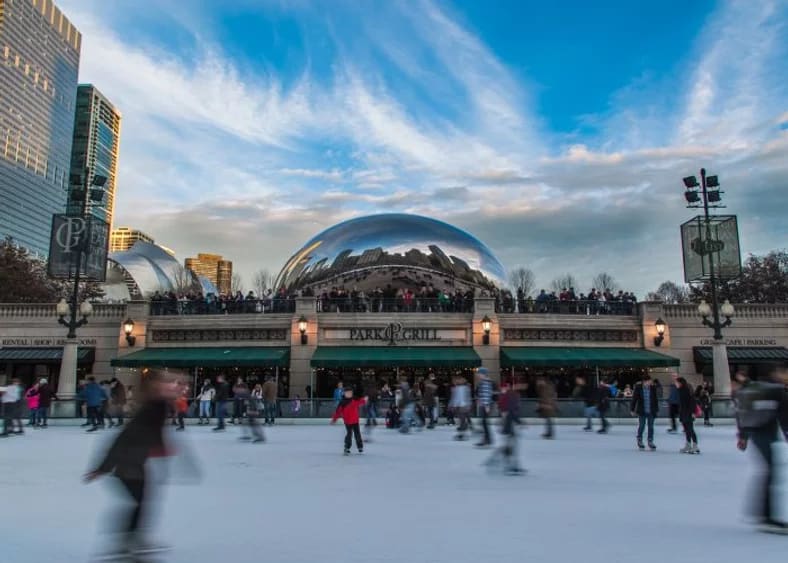 All of the best things to do (indoors, of course) throughout the city! To celebrate the first day of December, here's a comprehensive list of what to do and where to do it.
Dance
Joffrey Ballet kicks off the winter season with none other than The Nutcracker, playing from December 1-30. Later on in the season you'll find Modern Masters on the stage from February 7-18, and the season will close with A Midsummer Night's Dream this Spring.
Les Ballets de Monte-Carlo will grace the stage at the Auditorium Theatre of Roosevelt University. "The premier dance company of Monaco that is known for its elegant, classical style comes to the Auditorium Theatre with La Belle, a dark and beautiful reinterpretation of Marius Petipa's classic ballet The Sleeping Beauty" - opens March 3-4.
Dancing with the Stars hits the road and heads to Chicago in February - specifically February 3. Don't miss your favorite pros from the TV show twirling and swirling across the stage at the Rosemont Theater.
Comedy
Nick Offerman, aka the one and only Ron Swanson, will grace Chicago with his presence this evening for two hilarious shows at the Chicago Theater. Tickets are still available!
Beth Stelling, a Chicago native, comes back to Thalia Hall to perform her hysterical stand up. You've seen her on "Chelsea Lately", "Conan", and "Jimmy Kimmel Live", and now you can see her in person on December 7!
Ready for another reality TV face? Felipe Esparza, winner of season 7 of Last Comic Standing, will perform at the Vic Theater on January 7. His stand up specials can be seen on HBO to catch up before seeing his Chicago performance.
Theatre
Harmony France and actor Danni Smith founded Firebrand Theatre to give women a space where their voices would dominate. The company debuts with "Lizzie," a punked-out, rock-fueled take on the life and times of convicted ax murderess Lizzie Borden. Playing through December 17 at Firebrand Theatre at the Den Theatre.
Tracy Letts' new show on the Steppenwolf stage, The Minutes, has been widely well-received and in demand since its debut in early November. Don't miss out on this sure-to-be hit play, at the Steppenwolf Theatre through December 31.
Tanya Saracho - Hollywood writer, producer, and showrunner - returns to Chicago with her drama about a Latina TV writer and her friendship with the only other Latino near—its janitor. Fade will play at the Victory Gardens Theater through December 23.
Art
Auguste Rodin was once the most famous artist on the planet. The Art Institute, which hasn't devoted an exhibition to the French sculptor since 1923, is using the centenary of Rodin's death as occasion to present rarely seen sculptures and drawings, as well as other pieces from Art Institute holdings. Accompanying the show are works by his friends and contemporaries, such as Henri Matisse and Claude Monet. On display through March 4.
Edward Hines National Forest, on exhibit through February 11 at the Hyde Park Art Center, is an intriguing mix of nature and sculpture. Part tree house mixed with gallery space, the installation calls for the viewer to question the effect we have on the environment, particularly in relation to deforestation and the lumber district in South Chicago.
Barbara Jones-Hogu was an art student at Illinois Institute of Technology in 1968 when she got involved with the founding of AfriCobra (African Commune of Bad Relevant Artists). She went on to become one of the most important voices in Chicago's Black Arts Movement, and now has her first solo show: "RESIST, RELATE, UNITE 1968-1975" at the DePaul Art Museum.
Bonus Music/Comedy Combo!
TOMORROW NEVER KNOWS! This rock and comedy festival keeps things lively in the dead of winter, with concerts by Destroyer, No Age, Helado Negro, Typhoon, Allan Rayman, Hinds, Rayland Baxter and more. Shows January 17-21 at Metro, Lincoln Hall, Schubas and the Hideout.