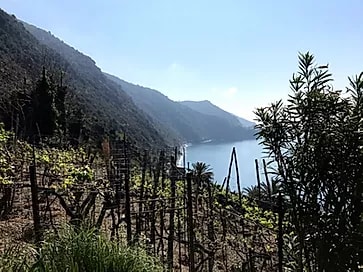 For my 30th birthday I spent 16 days bouncing around 5 European cities; London, Amsterdam, Barcelona, Paris, and Cinque Terre (Italy). From the beautiful countryside of France, to the mountainside vineyards off the coast of Italy, to the bustling city center of Barcelona I saw a little bit of everything. Here is what I learned:
There are people outside the midwest that are inherently friendly, welcoming, and helpful. It's challenging traveling foreign countries where english is not the first language. A little bit of homework, practice, and patience do wonders. Treat others as you wish to be treated. I have come across disoriented tourists in Chicago and often ask if I can help point them in the right direction. It felt nice having others do that for me and really helped shape my experience.


The CTA is not the best, but it's definitely not the worst. Be thankful our transit lines are on a grid and that our city is so walkable. In other cities like London, pedestrians do not have the right away. At least the streets tell you -right on the road- to look left or look right before crossing. Maybe we could implement that on some of our one way streets downtown?


Bike cities are awesome. Amsterdam for example, never have I seen more bikes. Granted it's a smaller city, but what a smart lifestyle. No getting stuck in exhaust ridden bumper>bumper traffic, or waiting on a stinky overcrowded train or bus. Whisk down the street with the wind in your hair, life is better that way. You may even notice the tulips along the way. Chicago should continue to expand our bike lane/light infrastructure to encourage a lifestyle shift and foster further development. Who's ready for the 606 to expand through goose island and connect to the Chicago river walk?


Back to city grids for a minute. Really, be grateful for Chicago's strategically planned infrastructure. Paris and London are a hot mess of zig-zagging streets and turn-abouts. This makes being a driver or pedestrian more challenging. You often feel like you're going the wrong way as you cover twice as much surface area then you would going in a straight line. Few cities have an inner city expressway like Lakeshore Drive to zip from one end to the other. I often forget this.


Food. The world is full of delicious food. While we know what we really like, we don't often know what we might like, especially if we haven't had it before. That said, I wasn't fond of Barcelona's pig lips and won't be trying those again. We live in a rich cultural city, take time to venture out and try something more authentic and less mainstream. That's what living in a city is all about.


Architecture in the US feels new and basic after traveling abroad. I stayed in a flat that was over 200 years old. It felt comfortable and modern yet the old world detailing seemed timeless. Don't knock down a warehouse just because it no longer serves it's original purpose. Reinvent it and keep our city's history rich with stories to share with future generations. It excites me to see this happen in the West Loop/Fulton Market and other pockets of the city.


Cost of living is relative. Chicago is still affordable. Maybe not compared to the suburbs but relative to other world class cities we are in a really sweet spot. Our city is accessible, clean, with no shortage of great places to eat, drink, and be merry. Chicago has culture and a pulse that can't be recreated elsewhere. While I think it's important to travel cross-culturally I'm happy to call Chicago home.


Feel free to visually experience my journey on my
instagram
. If I can help you find home in Chicago please let me know. It's going to be another fun a busy year for real estate.